Monday, July 5. 2010
Just after the first day of conference talks, it was time for a party!

The party was held at the Love Hotel Nightclub, in Tampere. For the first few hours, the club was reserved for KDE alone, and everyone was able to chat with each other. And this is actually quite easy. You walk in front of a random developer, ask their name, and what he/she does in KDE. That's all you really need! And gives you a good head start for a conversation, full of enthusiasm for what the other is doing! That atmosphere alone is really unmatched elsewhere. Unbelievable and amazing. Later the evening, other local people also entered the club. It creating a nice mix up of hackers and locals. (and various girls!)

At the dinner beforehand, my fellow project members wondered how a KDE party would look like - taking the taking the high level of geekness into account. Well trust me I stated: KDE people can party!! Even dance and set a really good atmosphere! And it turned out to be real. Sjors mentioned afterwards this was the best best party he ever had!
During the evening we also got into a conversation up with college students from Mexico, and naturally you'll have to explain yourself. Like what friends you are with. To get the message across to the girls, I briefly said it was actually quite weird. and cool at the same time. We're here with ~300 friends. All from around the world, meeting here together in Tampere. [wow. what is the relation?] Well, again quite weird and cool. We make software. You know there is Windows, there is Apple. But there is a third one. And this one is done by volunteers. They work on it because they love to it. And that's something I admire. Like those anime people in the park today; totally dressed up. They also do that they love to do. And now we're here to build amazing software. As a means to improve the world. [wow]
The message got through pretty nice actually. It was not a talk about technical details, from mind to mind (like we tend to talk). It was a message from the heart, to the heart. It kind of struck her as I patiently told it, giving pauses, and letting the effect get through. It showed and shared the feeling and enthusiasm we all have, and it worked really well!
The rest of the night continued with amazing music by the DJ, and a lot of dancing, taking pictures, etc.. I hope to receive some pictures of the others over there. Perhaps they are better not to be posted here.

Aaron dancing yikey close, just for the fun of it. Me getting kind of itchy screaming, and there are pictures of that too.

Taken by locals.

wow that was a party. Did I recall that was with geeks? I'm dazzled, and even more when we took the final photo. It was taken after the party. At 3:39.

Sunday, April 19. 2009
Lately I got a request to blog more about the progress of KMess, and I've been scratching an itch on it. Since we're about to release a "KMess 2.0 beta 2" release I'll delay that for later today/tomorrow.

The train from work to home also started to get a bit boring so I've decided to install openSUSE on my MacBook. I really wanted to do this because KDE 4.2 is looking so sweet. Running OS X didn't feel right anymore at all.

The setup was a bit difficult due to EFI-partitioning being messed up, but the actual install was easy. In case you're looking for a HOWTO, the openSUSE wiki pages give you everything you need. Most hardware seams to be working, including: bluetooth, wifi, audio, compositing, video out, special keys, sensors, iSight webcam (requires firmware). There are some quirks remaining though: at the login I briefly see some video memory garbage and the synaptics touchpad sometimes gets locked after suspend to ram.
However, now I can have some fun in the train, show pictures to friends easier, potentially expose Linux/KDE4 to more people, read cached e-mail, etc... Perhaps I could code somewhat, but most of my energy is still spent on my daily job and the renovation of my apartment in the evenings/weekends. I'll blog a bit more about that later.

Sunday, July 27. 2008
With this blog entry I'd like to inform you all about the amazing progress we're making with KMess 2.0. It's been a bit quiet on the blogging side, but development surely didn't stop. The development timeline at trac.kmess.org reveals there are 200 commits within the last 30 days.

Within a few days we hope to release a 2.0-alpha 2 release, which has the following new features:
Everything is running quite stable under KDE 4.
Tabbed chats are supported now. This is such a breeze, I wouldn't ever want to live without that anymore!
Every dialog received a nice makeover.
Connecting over HTTP is supported, making KMess usable for restricted LAN's.
Ink sending works!
Larger messages can be sent
MSNplus formatting can be displayed.
We've added an application-wide settings dialog for common settings.
Lots of nifty improvements everywhere; choose your fire transfer ports, automatically download to a folder, copy contact 'now listening' information, etc..
We stil have our share of things we like to improve, implement and annoyances to fix, so the upcoming release will still be called an alpha. Most of the work on KMess 2 has been done by Valerio and Antonio, so I like to thank them for this as well!
This is how KMess 2 look like now: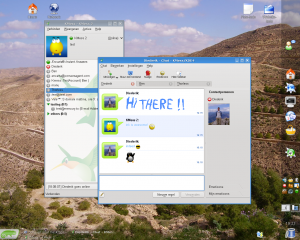 In the screenshot you see the ink receiving and tabbed chat in action.
KMess on Windows
There is experimental support for Windows as well: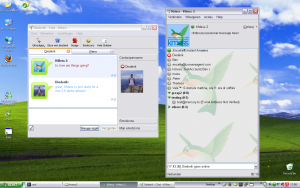 There is no "setup.exe" yet to double-click on, but a lengthy manual of steps to install. Hence the reason we still call it experimental. Everything seams to work though.
Personal stuff
I didn't always find time to work on KMess in the past few months. If you have a daily job as web developer, not all evenings are easily spent on coding as well.

I still do a lot of things in the background, and I'm slowly starting to pick up coding again. I'm working through the first parts to receive webcam sessions, and you can expect this to be present in KMess too.
After the summer holidays I'll also be moving to to my very own appartment (maisonette actually). It has a small balcony, 3 bedrooms and a view to a lovely park in front, which I really love. Some work needs to be done before I can move in, like installing new kitchen and installing central heating. Guess you'll know what I'll be doing this autumn.

Oh and: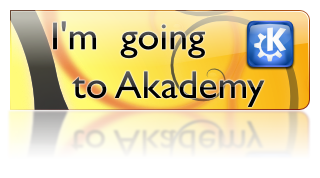 So if you see a guy coding for KMess on a white MacBook running KDE on Windows, it's probably me

It's my first time on Akademy and I didn't make any plans yet, but love to join some BoF meetings and discuss innovation. Last time I checked, almost every pillar of KDE could find a place within KMess.

Sunday, March 2. 2008
This is not meant as a sentimental entry. It's about marketing and communicating a message to your potential users. Too often I find myself at a website of an Open Source project and ask myself. "where am I now? what the -beep- is this? and what can I do with it?"
As personal example I take kmess.org as example. We tried really hard to fix this. The site is a lot of content nowadays, but we think there is a lot of room for improvement. While discussing this we Valerio came up with the following blog entry:
Why Ubuntu 8.04 needs better marketing
That article shows the big difference between a summary of technical details and something that appeals. Their revised announcement makes me all of a sudden excited about downloading Ubuntu 8.04. Less technical wording, clearly written sentenses and focus on what advantages does it has for me. Worth reading, this article is written really well!
In the comments there is also a nice observation:
The key however is to, like Apple, make a directly emotional appeal. Even Intel claims to be trying to take this route, inspired by Apple (successfully? Maybe). Take a look at Apple's OS X page: http://www.apple.com/macosx/. The bold heading is very dominant. And it doesn't really contain too much logic… again, it is an emotional appeal.
I really like Apple's site. It makes me enthusiastic about their products, and while browsing it just goes on. Yet I can also find a lot of technical details there. I couldn't describe why, but now I'm starting to understand the key aspect here: emotions.
Another example: Last week I was on a holiday/journey, and tried to explain a bit Aikido to the guy next to me. It's the martial art I practice and love. In the years I developed a few short phrases to explain it but somehow my description didn't get though at all.

Fortunately I got a little advise whispered in my other ear: "you are too technical". Dang! I'm currently inspired by "feeling first, mind later" theories and this is another eye opener for me. By using more vague descriptions adjusted to the receiver (communicating a feeling/emotion) the other guy managed to get it a lot better. Whoa. Using less strict descriptions actually makes people grasp something better?
This incident among others makes me realize a lot of people are probably wired this way (call them alpha's if you wish). As technicians we love to communicate details, and the receiver can reconstruct the same image in their mind. Most people are not like that, or can't manage to be so. I didn't expect this gap could be so big. I noticed how this guy next to me responds much better while communicating an emotion, feeling or vague description (which you can technically put down as inaccurate, misleading, etc..). It has a strong effect, as the message is received in a more powerful way.
Meanwhile I'm starting to get an itch to do something with this conclusion within the KMess website too. If a lot of people are wired this way, shouldn't our websites reflect that? I'd like to call it "communicating emotions".


<shameless-plug>We're looking for more ways to improve the KMess website. If you have suggestions, don't wait any longer and post them!</shameless-plug>
Saturday, February 9. 2008
A while ago I mentioned briefly KMess would be ported to KDE 4. We weren't sure when to do it yet. Eventually we decided to port it as soon as possible before doing new changes to the codebase. That would only make the porting more difficult, or give SVN a vague status to new contributions. So at 15 January I started a branch for porting the code.
After all automated changes we went through all files one by one (resuling in ~190 commits) before things managed to compile again. For those that are interested, there is a screenshot of the first run. Things crashed at startup, crashed deep in QHttp, froze, and corrupted memory multiple times. Once you manage to open the settings panel again things look really funny.

We've managed to get these issues fixed in the last 2 weeks and things are starting to get back in shape. This is KMess after ~270 commits since the initial start of the 'kde4porting' branch:
| | | |
| --- | --- | --- |
| | | |
| Login dialog | | Full desktop |
Note that the application is still not usable. Now we've gotten past most crashes we can fix everything we've broken and make it pretty. Some things were broken on purpose to get past all compiling errors, like the contact list, now playing information and saving of settings. In fact, your settings will likely be eaten at this point.

There are some visible benefits for the KDE 4 porting already. Oxygen alone makes apps breathtaking beautiful. The networking code has less dependencies on KDE now, which helps to build a library from it later. The application startups almost instantly. Memory statistics also show some interesting effects (note the size is also affected by the shared libraries).

I'm not really sure what those numbers mean, but for the ignorant among us it makes KDE 4 applications look so much better.

Thursday, January 10. 2008
I'm pleased to announce the release of KMess 1.5, a MSN Messenger client for KDE.
After a long time of development from version 1.4 first, and the 1.5-pre series after, we've been able to obtain a very stable and feature-filled version.
Changes
Users of KMess 1.5-pre2 will might notice that file transfers have become stable while operating full-speed. The ugly popup balloons are gone and you can send custom emoticons now. A lot of bugs are squashed in the process, and the overall application got the polish it deserves.
Users of the last official stable release (1.4.3) will notice the quite some new interesting features. Most parts of the user interface have been improved. Combined with rich colorful chat styles it's a refreshing breeze for the eyes.
This release brings the MSN support to a level we're happy with. During the development of KMess 1.5-pre1 and pre2, we've added support for the things you'd expect from a MSN Messenger client. That's nudges, now playing information, custom emoticons, personal messages, fast file transfers and automatic download of display pictures. To make sure you don't miss something in a conversation, Winks and offline messages can also be received, being able to send those as well is still a todo.
Looking back
Making the release of KMess 1.5 took a lot of time. Much more time then I anticipated. The introduction of a new developer (thanks Valerio!) helped a lot here. Looking at the changes I'm really stunned how much we've been able to polish.
It was quite difficult to get the direct connections stable. They've been a source of many crashes and lockups. Seeing it work out all smooth now is just unbelievable. It just works, like every user expects it to be. But after so much trouble I'm filled with excitement each time I see that progress bar rush to 100% in no-time. It amazes me every time.
What felt as a little project with the 1.4 / 1.5-pre1 release, seams different now. With the new website, trac installation for developers (tickets and wiki pages), announcement writing, and rock solid release it feels this little project has matured a lot. It gives me confidence we'll be able to pull up a lot more nowadays.

Future plans
KMess 1.5 will be the last version based on Qt 3 and KDE 3. The next major version will be based on Qt 4 / KDE 4. Originally I'd planned to get a release done before the KDE 4 beta's, but it took far more time to get the file transfers stable. It means there won't be a KMess 1.6, but a 2.0 version since KDE 4 will likely be adopted (e.g. with 4.1) by the time we're ready with 2.0.
I had some plans to collaborate with other projects before, but never really gotten to it yet. Since everyone is going for Decibel lately, I'm curious how we work towards that goal as well. I'm curious how it will work out, because I don't want to loose the specific MSN protocol features we have.
For now, enjoy the release!

Monday, December 17. 2007
Over the last few weeks I've been reading some intersting books, which are definitely worth to be read.
The first one is "Barbarians Led by Bill Gates". The book gives an intersting view point about Microsoft by an ex-programmer. How the work has been in those times, how projects were managed.
Interestingly to mention: it seams Windows was in fact seen as an unimportant project after it's initial failure with version 1.0. Management abandoned it, and some programmers kept poking arround to make it better - without all the management pressure. It appears the success of Windows 3.x was completely unexpected to Microsoft too!

The book also tells about the beginnings of the marketing machine - you can say the biggest product of all. However I missed details about Microsoft's (imho unethical) behavior towards the outside world. I guess that stems from the fact the author is an ex-programmer, and he mostly tells what he has seen from his position: how projects were managed. Still an intersting read though, because it gives quite a different view on Microsoft's own developments and successes.
The second book I'm reading right now is "Getting Things Done" by David Allen. And oh my this is real nice piece of work! I've gotten an introduction to GTD before, but with the book everything falls more in place. I'm at page 66 now, and it's already an revelling experience for me. Not only does David advocate a different model of tracking todo's and planning projects, he also explains how his methology actually co-operates with the natural, intuitive, way your mind operates all the time.

Additionally it's really geek friendly, addresses common pitfalls and yet I can manage my stuff with simple tools! I have got a pen+paper with me all times nowdays, I collect the todo-notes in a simple basket at home, and process those later into Kontact notes, Basket or KOrganizer (but even .txt files would do fine!).
Everyone who is doing "knowledge work" benefits from GTD. It works bottom-up, addressing the hectic atmosphere at your work/home first (which prevents you to move forward), and slowly helping you to get more overview of your projects, responsabilities and vision. It does this by helping you getting stuff out of your mind, so your mind can focus itself on more creative stuff, and do what's really good at (which isn't recalling todo's at the moment you actually needed them).
GTD promisis an interesting end result: to overcome stress, feel confident you won't miss something important, feel more relaxed and have more energy to actually do things. And while reading David's reasoning I believe this system will actually work for me, both personally and professionally.

Friday, August 3. 2007
The responses to by previous blog entry were more then I hoped for. Among them was an invitation to join the KDE-NL BBQ, which was helt last weekend. Whooha!
As newcomer, the experience was mindblowing. Everyone has the same passion and because KDE has so much to offer, everyone has something different to tell about too. So there is a lot to talk about: the state of development, Akademy, KDE4, marketing idea's, plans that are going, and all kinds of interesting details. There were developers from Amarok, KOffice, Mailody, the Music Notation Flake (Soc), but also translation, and marketing/promo teams.
Everyone was genuinely interested in each others stories, everyone clearly showed respect for each other, and we had some good laughs. If that wasn't cool enough, consider how conversations went full speed. Where you normally have to slow down because you're talking too fast, there was nothing to worry about among KDE enthusiasts.

It's said that people keep spending soo much time on KDE because of the community. I definitely believe that's true. I enjoyed every piece of that day, and love to be part of such events more often.
I went homeward with Jos Poortvliet and Niels van Mourik. We had a some difficulties finding the the highway because we spent too much time talking.

I had some good conversations with Jos back home, and thanks to him I didn't have to make the entire journey back by train. This would have taken more then 2 hours in total, now only 20 minutes.
At the train station I had an interesting experience as well. I sat waiting there with my notebook bag and a Baguette left from the BBQ. Which is quite odd at 23:00 to say the least. Some guys joined me to ask if I was from France, where I got that Baguette from. Oh BBQ? where? with friends? Well.. how do you say this.. er.. have you heard about Linux? yes? .. I had a BBQ with guys who work on KDE in The Netherlands.... er.. a set of graphical programs for Linux! Oh Cool! You work on Linux? It was pretty awesome to talk with those guys at a train station about Linux vs Windows vs Mac OS (due to my notebook), and how that guy didn't like Windows but still used it. Not that we could talk in detail - time was short and it mostly went about stereotypes - but every bit helps.

I spent the evening talking over MSN till about 2am, and was well awake before the alarm went off too. What a day!

Thursday, July 12. 2007
My blog has just been added to PlanetKDE, so I'd like to say hi to everyone! ..and tell something about what I do for KDE development.
I'm one of the main developers of KMess, a MSN Messenger client for KDE. You can say KMess brings an "MSN Messenger like experience" to Linux without copying the annoying parts. I tried all clients when I started with Linux in 2003, and really loved the user interface of KMess. It felt much like MSN, but even better.

With my next entries I hope to get more technical, show some screenshots, or post idea's about Linux. I'm curious how this will all work out.
introducing...
I'm from the Netherlands, 23 years old, code webapplications for a living and have a passion for KDE (following the dot, blogs and akademy screencasts closely), and started contributing to KMess in 2004. This started because I liked every part of KMess; both UI design and code. It was very easy to jump in.
Currently we're finishing up KMess 1.5. It includes a lot of bugfixes and we got rid of more annoyances too. With the next release (either 1.6 or 2.0) we'll implement webcam and multimedia support. I actually hoped to have 1.5 out already to leave KDE 3 with a good 1.6 release, but it's likely we'll be porting to KDE 4 instead because of the multimedia requirements.
We all know Kopete is part of KDE, and KMess exists outside the KDE SVN. I don't actually mind this; it's good to have one standard client shipping, even posted some bugzilla comments for Kopete. The bottom line is that KMess got me started with KDE development. If you need more explanation then this, you're welcome to post a comment though!
something about msn
One of the most difficult parts of the MSN protocol is the client-to-client part (MSN P2P). It's used to exchange pictures, emoticons, files and all other kinds of invitations directly between two contacts. It's what makes most clients distinguish from each other. Not getting this part right means webcam sessions and file transfers break when someone sends an emoticon or changes their avatar. The reverse-engineered documentation help a lot, but I keep noticing they miss practical details you'll encounter as developer. In KMess, I actually had to refactor the MSN P2P code three times before I saw the whole overall design of it. I've been told Mercury's counter is at 6 now. That's something new MSN plugins can avoid, and I don't mind sharing my experience about that!
A lot of energy has been put in good support for MSN P2P in KMess, and the code works really well. It means we're ready to build stable webcam sessions in the next release. Combined with the APIDOX examples the P2P code is almost a reference guide to implement MSN P2P. Worth checking out!
Happy KMess'ing or .. Kopete'ing!

Tuesday, February 20. 2007
There are some additional improvements to the file transfer previews. The previews are now generated with a more low-level KIO API. This no longer blocks the KMess interface to generate the preview.
As extra bonus, KMess generates previews of video files as well. When you send a movie to someone who uses the official client, they'll see something like this: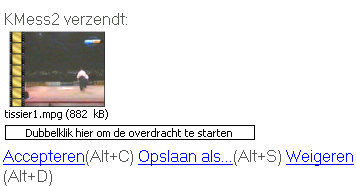 Pretty neat, isn't it?

Wednesday, February 14. 2007
KMess just got a new cool feature! I've received a patch for file transfer previews. The result now looks like this: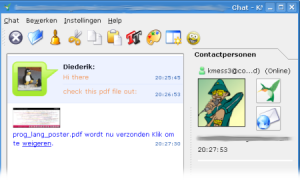 In the official client this is used to send previews of images. KMess also adds support for almost every imaginable file type, thanksverymuch KDE! Think PDF, OpenDocument, HTML, Qt designer files, really everything. Whooho!

Saturday, January 27. 2007
...someone else copies your layout and wordings.

(compare: KMess version)
All I can say is: I'm flattered.

On a side note, I'm still looking for ways to improve the home page. I really like sites that show off their product well at the home page. The recent examples I found are:
Why is this important? With my application conversation I litterally got the question "what is KMess actually?". I never noticed it before; the home page simply didn't tell. It only rambled the news headlines of things that were improved.
I'd like to improve the homepage it visually as well, like the sites above managed to. The screenshot tour is a good start, but a bit too hidden yet. Every once in a while I'm thinking how to incorporate new ideas in our home page. Perhaps I manage to get something done with the 1.5 release. Contributions, designs and suggestions are welcome off course.

Sunday, December 17. 2006
I've just completed the now listening support in KMess! A month ago KMess could only show what contacts are listening to. Now it also does the reverse; notifying contacts what you're listening to.
When this feature is active, an additional status line appears in the main window:


KMess is able to retreive playing information from Amarok, Juk, Kaffeine, KsCD, and Noatun. Suport for non KDE-players like XMMS and Banchee could be added later, but I'm not starting with it yet. Each of these players has it's own way to provide the playing information.
To enable this feature, check the last option in the settings dialog:
KMess uses DCOP to retreive the playing information. DCOP is a really nice KDE feature to make IPC-calls to other applications (it runs over the standard X11 ICE protocol). Try the following commands in the console, and you'll get the idea:
dcop
dcop amarok
dcop amarok player
dcop amarok player artist
Really amazing, and extremely powerful

Sunday, December 17. 2006
Long time no blog... I didn't make much room for it lately.
Previous week we've had Sinterklaas in The Netherlands. It's an annual Dutch tradition, which can be compared somewhat with Santa Claus. At 5 December, Sinterklaas brings presents to both children and adults. Some presents are also camouflaged in an imaginative way, accompanied by a fitting poem to make fun of the recipient.
This year I had to make a nice present for my father. The present contains a pocket-size book about wine. This is the end result after two weekends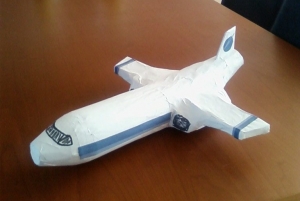 The body consists of a soft-drink bottle and two small wooden planks. These planks form a cross which is nailed on the soft-drink bottle. The whole part has been wrapped with paper maché. The small book didn't fit entirely, resulting in the amazing booster effect below the wings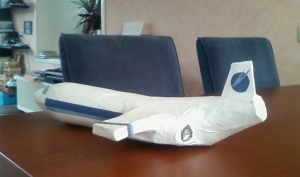 Additionally two pictures of the construction: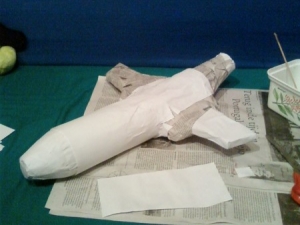 The present sticking out: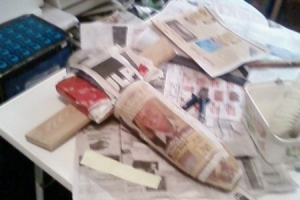 That was enough creativity for me this year.

Tuesday, November 7. 2006
A recent enhancement in KMess is support for "now listening" information. You get to see what your contacts are playing. this information is displayed after the personal status message, and looks like this:

Much like the official client, you get small icon, and the title afterwards.
The next step is offcourse, displaying what you're playing. Work has started, and I've decided to use Kopete's "now listening" plugin as inspiration. It has support for Amarok, Kaffeine, Juk, KsCD, Noatun and XMMS. Sounds good enough to me